We offer free annual guided tours of edible gardens. This program is in partnership with the Corvallis Sustainability Coalition. Tours include stops at various sites, where gardeners or small farmers give overviews of their work. There is time for questions and exploration. Please Contact us if you'd like to showcase your garden or small farm on the next tour series.

2017 Tours
Walking Tour #1
Tuesday, August 8, 6:00–8:00 PM
SE Stone Street & Alexander Avenue; Corvallis, OR 97333
Walking Tour #2
Tuesday, August 15, 6:00–8:00 PM
1420 SW Jefferson Way; Corvallis, OR 97331 (Behind OSU's Callahan Hall)
Cycling Tour
Saturday, August 12, 9:00 AM–12:00 PM
Vincent Street & Robb Place; Philomath, OR 97370
Download the Plants in my garden sheet as indicated from one of the 2017 cycling tour hosts.
---
Click here to read about our 2016 bicycle tour pilot.
---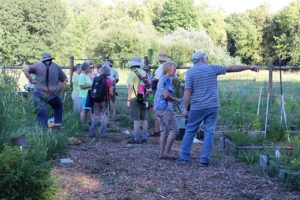 Photos from the 2017 tours:
Photos from the 2016 tours: